Southern Cargo Packers and Movers
Bike Transport Services in Mumbai at Southern Cargo – Your Genuine Mate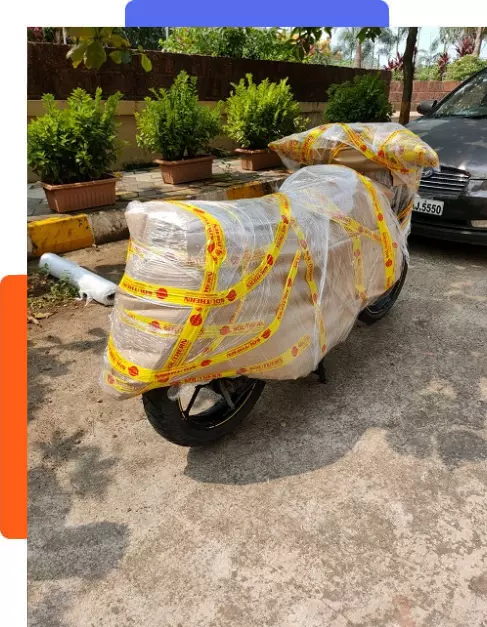 Are you pondering on relocating the house somewhere else and relocating the bike to the destined location? Get over it!
Southern cargo delivers unswerving bike services in Mumbai directly at your doorstep and within a limited time frame. We think and in fact, understand that the quality of services is the avenue to customer satisfaction. Hence, our hauler always aids us in the fast, safe, and smooth transit of a motorcycle at the said terminus. 
Our fabulous moving administration and 365 days constant services at temperate rates fall us apart from other bike transport services in Mumbai. What's more, the company alleviates all the concerns related to your vehicle protection by delivering it under adversative weather conditions and without notches. 
Are you willing to know more about bike transport service near me? Give us a call today. 
Looking For Bike Transport Services In Mumbai?
Get Instant Quote
Where are you moving to? If you are in hurry, Call us at 9372102519 or fill out the form below to get a free moving quote within minutes.
Know Why Should a biker not Self-ride for a Long-distance Relocation?
Self-bike riding has never been an easy task. You need lots of things to take care of during the journey. So, let's talk about the difficulties you face during a self-bike ride. These incorporate:
Tiredness
A most common problem that bikers face over long rides is the open feature of the bike leads to wind blast. You have to wear a mesh jacket for riding during hot days. Also, sitting on a bike and holding it for a long time may give you a shoulder ache. 
Trucks
Many well-mannered truck drivers follow the rules and give signals before each turning point. Other remaining atrocious drivers do not even give indicators before turning anywhere. It may result in a big accident. 
Distractions
While riding several things often come into our minds. Sometimes you start listening to music while riding that could be very distracting. Focus on the road is crucial. Otherwise, it may lead to something worse. 
Small Fuel Tank
Bikes have a small fuel tank than that of cars. The worst thing is that you have to plan out fuel stops, and if you could not find the petrol pump, the bike will undoubtedly stop. 
After knowing these above situations, you may not be willing to self-ride a long distance from the next time, right?
So, what should you do next? 
It's quite simple! Hire a reliable logistic company like Southern cargo. Southern cargo is known to be the best packers and movers in Mumbai. We save your valuable time and help you carry out other crucial pending tasks while the professionals pack and move the vehicle. 
Check the Formalities for inter-state Bike Relocation Below
We believe two-wheeler relocation from one city/state to another is not a hard job when the work is executed under professionals' supervision. For an individual bike transportation brings too many challenges. A person has to abide by numerous rules and complete some formalities while crossing state borders. 
So, let's check the information about these formalities below
If your two-wheeler is

hypothecated

, get a NOC (No objection certificate) from the bank that gave you a loan. 
Collect the following documents
Form 28 (collect from RTO)
Hypothecation NOC certification from the bank (optional only if you purchase a bike on loan)
A valid PUC (pollution control) certificate
An original RC (registration certificate)
Bike insurance paper
Self-addressed envelope and stamps as per distance you traveled between one city to another
Cash challan for NOC
You visit the RTO, find a counter for NOC, and submit all the documents. The person will later verify and charge an amount.
Go to the cash counter, submit the amount and get the Receipt/Cash Challan.
Finally, you give the complete file with a cash challan to the concerned person there. And then he will give you an acknowledgement slip using which you can get a new NOC at the mentioned address.
The entire process is simple. Still, we usually face problems with the documents we need. Get the help of RTO officials if you want.
Two-wheeler Transport Charges from Mumbai to Anywhere in India
Southern cargo is able to transport two-wheelers in different locations in India with necessary precautions. We own a fleet of trucks, tempos, and trailers to transport bike from Mumbai to Bangalore and anywhere you say. We are one of the most trusted bike transporters in Mumbai because of over 13 years of experience in providing high-standard services. It is worth noting that the bike transport costs depend on the distance covered between one city/state to another. 
So, what are you waiting for? Just give us a call and know the two wheeler transport by road charges from Mumbai to PAN India. 
Please read the chart below to know more about the cost of bike transportation from Mumbai to all over India.
Bike (up to 150kg / 150 cc)

Bike (up to 180kg / 250 cc)

Bike (up to 210kg / 500 cc)
6 Reasons Why to Choose Our Moving Services?
Intercity Motorcycle Transport Service Facility Throughout the Nation
Intercity bike transport has become easier than ever with Southern cargo packers and movers. Transport your two-wheeler from one city to another with safety and expediency. Packing a bike thoroughly and then leaving with transporters is unquestionably a wearisome process. 
The booking procedure takes extra time, and your bikes reach days after the said delivery date. Moreover, there is no guarantee that your item will be in the same condition as you sent it. 
Southern cargo assures you to provide damage-free, on-time, and minimum paperwork facilities under one roof. 
Refer this chart to know intercity scooty transportation charges by road.
Faqs About Bike Transport Services in Mumbai
The average bike transport from mumbai to delhi charges is between ₹ 8000 – 12000. Please get quotes from southern cargo packers and movers if looking for other cities across India.
Yes. We take extra care of your two-wheeler until it reaches the final destination. But still, we advise you to take transit insurance for your vehicle to avoid any unforeseen event in the future. 
Yes, you can easily get bike transport services near you. If you pick a dedicated carrier, the truck carries a bike separately. If you choose a shared carrier, a truck will carry a two-wheeler with other vehicles reaching the same location. 
Of course, you need it. If you hire southern cargo professionals, your bike will be safely transported to the desired location in a stress-free manner and within a committed time frame.
The bike transport service charges from Mumbai to Bangalore will go between ₹2000 – 7000. For more information, call southern cargo and get a free estimate today.
Things to Do Before Hiring any Bike Transport Service Near me
You might be soon shifting to a new place and finding bike transportation in India. You choose only genuine companies that have skills in the work they do. To ensure your bike is safely shifted, we have mentioned some vital tips before handover your vehicle to the transport company.  
Clean Two-wheeler
Your two-wheeler should look clean so that you can notice any kind of dent or damage before handing it over to the packers and movers mumbai company. There is a chance that you left those when the vehicle was not cleaned well and the insurance will not cover it if you claim that it happened during transit. Note – movers always click pictures of the dents/damages to avoid any kind of future problems. 
Remove Detachable Bike Accessory
Bike shifting service provider always suggests removing any kind of bike racks, fog lights, and detachable GPS before the shifting takes place. This will save your expensive accessories from harm and makes the relocation work easier for a company's driver.
Check Tyre Pressure & Oil Leakage
It is good to check yourself for issues beforehand. It may include some problems like oil leaks or low pressure in the tyres. If you find any of these, ensure that it is repaired before you send them for relocation. 
Certification & Customer Ratings
Before hiring any Bike packers and movers mumbai always ensure they have high customer ratings/reviews and positive feedback. Also, check for the certification for operating the packers and movers  company to prevent any frauds ahead.
A little fuel
When the pick-up date gets confirmed, you must ensure a little fuel present in your bike. Now your two-wheeler is ready to transport without any worries. 
We hope the given-above information & tips prove very helpful for you. If you need any help regarding vehicle deportation, take a moment to share your problem with Southern Cargo. We are a reliable, seasoned, and professional group in Mumbai. We will feel glad to give you the best motorcycle transport service near me and  across the nation.  
Are you excited to avail bike transport service near me? Call one solution to all problems that is southern cargo packers and movers. We assure you to hand over utterly checked, labeled, and insured two-wheeler shifting services 24*7.