Southern Cargo Packers and Movers
Bike Transport Services Specialist in Navi Mumbai
Southern Cargo is a well-known company offering bike transport services in Navi Mumbai. While transporting their prized possession from one city to the other, most people are worried about the safety of their bikes. However, at Southern Cargo, we handle your two-wheeler carefully and shift it with utmost care. We ensure timely door-to-door delivery to manage your motorcycle transport service effectively and professionally.
Since 2009, we have served thousands of customers with reliable and professional bike transport services in Mumbai and surrounding areas. We meet the unique needs of our customers with practical techniques and features. We are trained and experienced in carrying out transportation for bikes of all sizes, be it a scooty, bullet, or sports model.
We have built a strong reputation in the relocation industry with our excellent knowledge and expertise. We make our clients happy and satisfied with our reasonable two wheeler transport charges and high-quality service. Are you looking for a bike transport service near me? Southern Cargo is the name you can trust upon.
Please send us an email or call us to discuss your requirements for complete information about our motorcycle transport service.
Looking For Bike Transport Services In Navi Mumbai?
Get Instant Quote
Where are you moving to? If you are in hurry, Call us at 9372102519 or fill out the form below to get a free moving quote within minutes.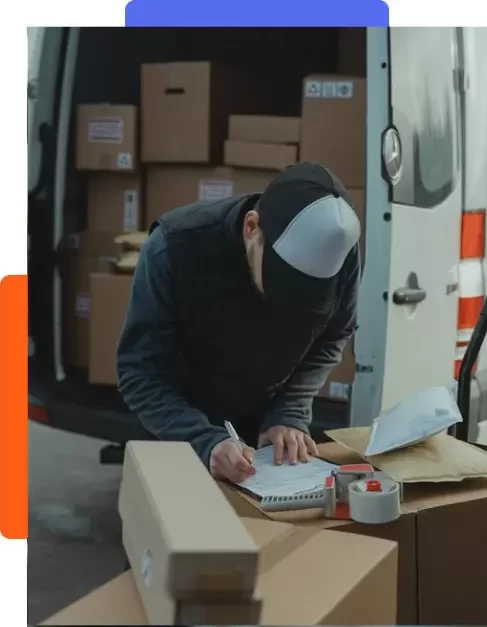 Valuable tips to Prepare Your Bike for Relocation
Although hiring a
motorcycle transport service
is the most convenient way to relocate your bike safely, you will need to take a few steps to prepare your motorcycle for the haul. So, before handing over your bike to a
motorcycle transport service near me
, these are a few valuable tips to follow:
Cleaning:
If used regularly, a motorcycle is a dirty machine that accumulates oil and gas stains besides mud, dust, and dirt. Cleaning it will make any stains, scratches, and gas and oil leaks visible.
Inspection:
After cleaning, inspect your bike for dents, scratches, broken parts, and imperfections. Click photographs of details like the current mileage. Also, look for any leaks and other issues. Recording all these things will help you claim transit insurance if required.
Loose Parts:
Bikes have several parts that may break off during transit. Try to remove and secure such parts, including the saddlebags and mirrors. Remove any personal items before handing it over to your
bike shifting service
provider.
Fuel and Tyres:
Check your bike's tyres and ensure that they have enough pressure in them. Since our movers will need to load and unload the bike from the truck, leave some pressure and a little fuel in it to keep it operational. However, do not leave too much fuel to make it heavier and increase the
bike transport service charges
.
So, as you can see, it is not so difficult to prepare your bike for transport. You just need our experienced and reliable
bike transport services in Navi Mumbai
to help you with the task. Best of luck!
Reasonable Bike Transport Service Charges Assured
Efficient and reliable bike transport services include a smooth process at reasonable bike transport service charges. Our company has been working in the relocation industry for 13+ years while staying within our clients' budgets. Today, more and more people hire us for our quality service at reasonable rates.
Overall, our two wheeler transport charges are dependent on numerous factors, like the bike CC, transit insurance, and distance traveled. Let's take a look.
Distance:

The distance between Navi Mumbai and your dropoff address is a crucial factor determining your

scooty transportation charges by road

. We decide your costs based on the zone your destination city falls in.

Bike CC:

The higher CC your bike has, the more charges you will have to pay for your bike transport.

Transit Insurance:

Transit insurance supports you financially in the case of a mishap during transit. You may claim transit insurance to get the compensation you deserve in such a situation. However, you will need to pay extra for your insurance policy.
We offer timely service that caters to all your bike shifting needs. Refer to the rate chart below to get an exact quote for your two wheeler transport by road charges.
Bike (up to 150kg / 150 cc)

Bike (up to 180kg / 250 cc)

Bike (up to 210kg / 500 cc)
6 Reasons Why to Choose Our Moving Services?
Intercity Bike Transport Service from Navi Mumbai
Are you moving from Navi Mumbai? Southern Cargo Packers and Movers in Navi Mumbai offer holistic services for people looking for bike shifting services near me all over India. Here, we provide top quality door-to-door service to our customers from Navi Mumbai to anywhere within the country. We have distributed our bike transport services into four zones across India:
Zone 1: Maharashtra, Gujarat, Goa, Madhya Pradesh, and Chhattisgarh
Zone 2: Haryana, Delhi, Uttar Pradesh, Rajasthan, Himachal Pradesh, Uttarakhand, Karnataka, Tamil Nadu, Andhra Pradesh, and Telangana
Zone 3: West Bengal, Bihar, Odisha, Jharkhand, Punjab, and Kerala
Zone 4: Jammu & Kashmir, Ladakh, North East, Andaman and Nicobar, and Lakshadweep
Are you looking forward to moving out of Navi Mumbai and shifting to any of the following cities in India? We ensure doorstep pickup and delivery with utmost caution to your bike's safety.
Faq's to Clear all Your Doubts
Our two wheeler transport by road charges include freight charges, pick up charges, and packing charges. They may differ based on the type of vehicle and zone of transit.
At Southern Cargo, we handle transport for all types of two wheelers, including scooty, sports bikes, bullet, 150, 250, and 500 cc bikes, etc.
Ideally, it would be best if you left 1/4th of your fuel tank capacity. You don't need to fill it to the brim, nor should you leave it empty. 1/4th tank filled with fuel will keep the bike light and operational if required.
At Southern Cargo Packers and Movers, we offer a door-to-door bike shifting service, which means we take your bike from your pickup address and leave it at your dropoff address according to your relocation schedule.
The distance between Navi Mumbai and Delhi is around 1420 km. It takes about 25 hours via NH 48. When you contact us for your bike relocation, we will give you an estimate of when your bike will reach its destination. Although we try our best to ensure timely delivery, there might be a few hours difference due to road and traffic conditions, weather, etc.
Points to Consider While Relocating Your two Wheeler in India
When you relocate from Navi Mumbai to another city or state in India, one important question that pops up in your mind is 'how to transfer my two wheeler'? Moving your registered bike from one state to the other can be a tedious task, especially if you are doing it for the first time and do not know the rules and process.
Here are a few crucial points you must keep in mind to make your bike relocation easy:
Duration:
You don't need to re-register your bike if you shift to a new city for less than 365 days. If you plan to return to Navi Mumbai in a few months, you can drive freely in the new state without re-registering your vehicle. However, if you plan to stay there for over a year, you must obtain a NOC (No Objection Certificate) from your current RTO and re-register in the new state RTO.
Documents Required:
If you want to re-register your two wheeler in the new state, you will need to furnish the following documents:
RTO form 27

RTO form 28

Registration certificate

Insurance policy

PUC (Pollution Under Control) Certificate
NOC from the Traffic Police:
Apart from RTO, you must obtain a NOC from your current state's traffic police. It must state that no challans are pending from your end for payment. It would be best if you cleared all your dues before re-registering your bike to a new RTO.
NOC From the Police Station:
You also need to obtain a NOC from your locality's police station to confirm that your bike has no open cases. It is a security measure to identify any illegal activities.
Re-Registration Process:
After collecting all the required no-objection certificates, you can apply for your bike's re-registration at the new RTO. After that, follow the new RTO's procedure to complete the process.
NOC Cancellation:
The relocation process starts with obtaining the NOC and ends with the re-registration of your two wheeler. Therefore, if you cancel your move from Navi Mumbai, you must cancel your NOC and obtain a NUC (Non-Utilisation Certificate) from the new city RTO.
Road Tax Refund:
If you have already paid road tax in Navi Mumbai and you are shifting to another state, you will need to pay the tax in your new state as well. However, you may apply for a road tax refund from your current RTO. The refund process may take up to 6 months to complete.