Southern Cargo Packers and Movers
Secure and Affordable Car Transport Service in Mumbai at Southern Cargo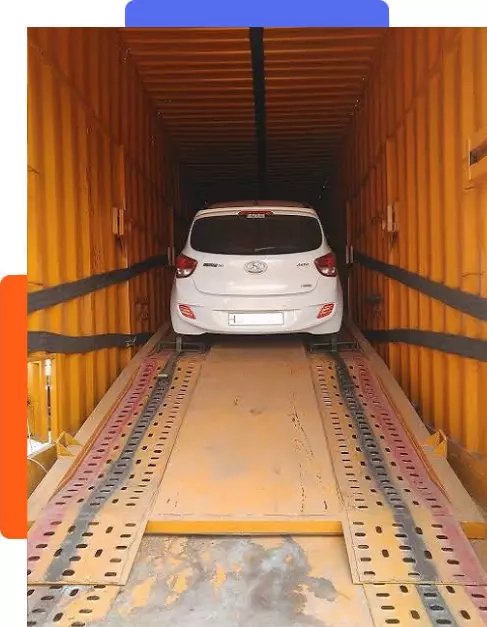 Southern Cargo Packers and Movers are among the most reliable companies that ship your car timely and conveniently to your desired location. So, while planning to move out of Mumbai, don't worry about the safe transportation of your car. At Southern Cargo, we take the best care of your precious vehicle and safely transport it to your destination across India.
We understand that relocating to a new house is stressful. So, our professional team will do its best to offer you a safe and trusted car transport service in Mumbai. You can rely on us completely because we protect your car by keeping it in the right hands. Whether you have a big or small car, we can manage everything easily for you.
At Southern Cargo Packers and Movers, you get the best car transport services near me. We can help you with all your car transportation needs. Whether you want to move your hatchback, sedan, SUV, MUV, or luxurious car, we can help you transport it all over India.
Do you want to find out more about our car transport services? Send us a query mentioning the type of car to be moved and your relocation destination.
Looking For Car Transport Services Mumbai​?
Get Instant Quote
Where are you moving to? If you are in hurry, Call us at 9372102519 or fill out the form below to get a free moving quote within minutes.
Car Transportation Charges from Mumbai to Pan India
Southern Cargo Packer and Movers has become a trusted name in providing reliable and secured car transport service in Mumbai. No matter what kind of car you want to transport, we will take its special care while shifting. Our main goal is to fulfil our client's expectations at the best rates in India.
Do you plan to shift from Mumbai to anywhere in India? One important question you have in mind must be: "how much does it cost to transport a car in India?" Well, the car transport cost you have to pay depends on a variety of factors. These include:
Car Type
Different car types have different car transportation charges. For instance, charges for car transport from Mumbai to Delhi for a hatchback will cost ₹ 9,000-10,000, but an SUV will cost ₹ 15,000-17,000 for the same distance.
At Southern Cargo, we transport all types of cars in dedicated or shared carriers, including hatchbacks, sedans, SUVs, MUVS, and luxurious   cars. If you have a luxury car worth more than ₹ 25 lakhs, you must request a price quote from us.
Distance Travelled
The distance between your pickup and drop-off addresses makes a big difference in your car transport charges. We have different rates slabs for 0-500 km, 500-1000 km, 1000-1500 km, 1500-2000 km, and beyond 2000 km. 
For instance, car transport services in Navi Mumbai will charge ₹ 8,000-10,000 to carry a sedan to Pune, but they will charge ₹ 12,000-15,000 for car transport from Mumbai to Kolkata for the same car due to the difference in distance.
Dedicated or Shared Carrier
We offer both dedicated and shared car transport services in Mumbai. If you opt for a dedicated carrier, the truck will carry your car separately. However, if you opt for a shared carrier, we will carry your car along with other vehicles going to the same destination. 
Dedicated carrier service charges are more than shared service. Therefore, you may choose the one depending on your expected car security and budget.
Insurance
Although we take extreme care of your car until it reaches its destination, we recommend you to take transit insurance for your car. Unexpected things may happen on the way. Insurance keeps you financially safe in case your car gets lost, stolen, or damaged during transit. The higher insurance you take, the higher charges you have to pay. 
Refer to this rate chart to know how much does it cost to transport a car by truck, depending on the factors mentioned above.
Car Transport Services Cost to Pan India
These are just approx. rates for moving your car from Mumbai to PAN India. For exact quote, please call us.
| | | | | | |
| --- | --- | --- | --- | --- | --- |
| | | | | | |
| | | | | | |
| | | | | | |
| | | | | | |
| | | | | | |
| Any four wheeler above 25 lakhs | | | | | |
6 Reasons Why to Choose Our Moving Services?
Avail of our Intercity Car Transportation Service Across India
To gain a competitive edge over our competitors and deliver you the most convenient service, we have made a systematic way of picking up your car from your doorstep and transporting it to your desired destination across India. If you are planning to transport your vehicle anywhere in India, our intercity car transportation service minimises your stress to a great extent.
Over 13+ years, we have gained a reputation in dealing with thousands of car movements from Mumbai to different parts of the country. Here is a list of cities we cater to across India.
Why Self-driving is A Dangerous Idea for Long-distance Relocation?
While planning to relocate, you may decide to self-drive your car to the new location. The idea is fine for a short distance, but it can be terrible for a long-distance relocation. At first, you may feel excited about the upcoming trip, but soon you will realise that you committed a mistake by making such a decision.
Don't forget that long-distance journeys by road not only take a toll on your car but also bear a chance of glitch. If you compare self-driving your car to hiring car transporters near me, the former is more dangerous and accident-prone. Besides that, these are a few things people often overlook while self-driving their car for long-distance relocation:
Tyre Issues
A tyre puncture is the worst thing that can happen while self-driving your car. It is a nightmare that exhausts all your energy. There are highway assistance providers, but they charge a lot more than usual. You often have to rely on passers-by to hitchhike you to the nearest city. You are saved from all these troubles by hiring car transport services in Mumbai.
Mechanical Failure
Overheating is common while driving continuously for hours, followed by axle damage and suspension issues. Since such matters need mechanical expertise, you may be stuck on the highway-side until help arrives. This wastes a lot of money and time and causes frustration.
Exhaustion and Fatigue
You need to do a lot of work before and after the relocation. So, why exert yourself to self-driving your car? Leave the car transportation to experts and reach your new home fresh and happy.
If you think of self-driving your car for a long-distance relocation, keep these issues in mind. It's better to hire our car transport service in Mumbai and leave your vehicle in the hands of experts. Depending on your car type, we will decide on a dedicated or shared car carrier for you and safely transport it to your destination.
Formalities for Inter-state Car Relocation
You need to follow numerous rules and formalities while crossing state borders. Fulfilling all the document requirements and road taxes is tiring and loathsome. So, here we bring you some crucial information about these formalities:
After completing all these formalities, you will get your new RTO registration and drive your car peacefully in your new state. Therefore, keep these documents ready to avoid any hassle at the RTO office.
A Guideline for Things to Do Before Handing Over Your Car to Movers
While relocating to a new city, shifting the car is a real problem most people face. Southern Cargo Packers and Movers Mumbai take complete responsibility for safely carrying your vehicle to your destination. Still, it would help if you also did certain things before handing over your car to us. Here are a few things you must do to prepare your vehicle for a safe move:
1. Wash the Car Thoroughly
Grime and dust on the car keep dents and scratches hidden. So, before handing over your car to the packers and movers, wash your car thoroughly and get rid of all dirt. By doing that, you can easily recognise any possible damage caused during transit and claim insurance.
2.  Remove Any Personal Items in the Car
Since the car will move a lot during transit, especially during loading and unloading, the items kept inside it will get tossed around. Therefore, you must empty your car before handing it over to our car relocators. If there are any personal belongings in your car, like speakers, papers, electronics, air fresheners, chargers, and cables, remove them to keep them safe.
3. Secure Any Loose Parts
Thoroughly check your car for any loose parts that may get lost or damaged during transit. A lot of time and movement will be involved while transporting your vehicle to the new city. Therefore, remove any mirrors, fog lamps, antennas, spoilers, etc., from your car and keep them in a secure place.
4. Don't Fill the Fuel Tank
Do not fill the fuel tank fully before transporting it through a carrier. Keep enough fuel to reach the trucks' location and then to your destination after unloading. Ideally, do not fill more than 1/4th of your tank. Doing that will reduce unnecessary weight and minimise the risk during the shipment.
5. Check Tyre Pressure
Over-inflated or under-inflated tyres are risky, as they increase the risk of damage while loading and unloading. Ensure proper tyre inflation while handing over your car to us for relocation.
6. Lock the Doors and Windows
Once we load your car into the carrier, it is unnecessary to open it until it reaches the destination. So, lock all doors and windows to avoid any risk of theft or mishandling.
7. Check for Leaks
Before handing over your car, check its undercarriage and look for leaks. If there are any leaks, get them repaired to avoid any hassle during the relocation.
Preparing your car using the tips mentioned above will keep it safe during transit and avoid any damages. Stay away from any stress by hiring our car transport service in Mumbai. We take all the essential precautions and provide secure and trustworthy car carrier services with our specialised fleet of trucks on a dedicated and shared basis.
Are you looking for affordable car shipping services near me? Hand over your car into the safe hands of Southern Cargo Packers and Movers.
FAQs About Car Transport Services in Mumbai
At Southern Packers and Movers, we offer car transport service from Mumbai to anywhere in India. If you plan to shift to Kerala, the distance between Mumbai and Kerala is around 1,300 km. Therefore, your charges for car transport from Mumbai to Kerala will range from ₹ 9,000 to ₹ 17,000, depending on the car type you want to transport.
Thane to Delhi is around 1,400 km. When you hire car transport services for this distance, it would cost ₹ 15,000-17,000 for an SUV.
The distance between Thane and Chandigarh is around 1,650 km. Self-driving your car for such a long distance is time-consuming, hectic, and tiring. Therefore, hiring packers and movers for car transport from Mumbai to Chandigarh makes sense.
We take extreme care of your car during transit. However, if your vehicle gets damaged due to an unforeseen event like accident, theft, riot, or fire, you may check your transit insurance policy and make a claim.
As soon as you fix your date for relocation, you must contact us for a price quote. Let us know the type of car you want to transport and your pickup and drop-off addresses. We will calculate your charges and give you a quote depending on several factors.