Southern Cargo Packers and Movers
Car Transport Services in Navi Mumbai at Southern Cargo
Southern Cargo Packers and Movers is a reliable car transportation services provider in Navi Mumbai. Are you looking for secure, worthy, and affordable car transport services near me, we are the leading car transporter in Navi Mumbai, offering all-India moving services to our customers. We have a massive fleet of car carriers to shift cars across India. 
Southern Cargo Packers and Movers is one of the most renowned car transport companies in Navi Mumbai, providing unmatched services to our customers for 13+ years. We offer viable solutions for all kinds of vehicle transportation for sedans, hatchbacks, SUVs, MUVs, and luxurious cars.
Our skilled labourers ensure the perfect loading and unloading of your beloved car with an emphasis on safe and sound delivery. With an aim to maintain a long-term association with our customers, we have the best customer support system with our vast network of 23 branches
Our trained experts analyse every minute detail of our customers' needs concerning their car shipping expectations. Accordingly, they implement the best course of action to execute our car transportation projects with ease.
We serve as an ideal platform for customers looking for affordable and excellent car transportation services in Navi Mumbai. Committed to offering you a hassle-free and fantastic journey in an efficient manner, we deliver you all the benefits of hiring us in accordance with your expectations.
Contact us for instant car transport quotes. Simply submit an online request along with your moving details. Our shipping experts will come with the best of rates.
Looking For Car Transport Services in Navi Mumbai?
Get Instant Quote
Where are you moving to? If you are in hurry, Call us at 9372102519 or fill out the form below to get a free moving quote within minutes.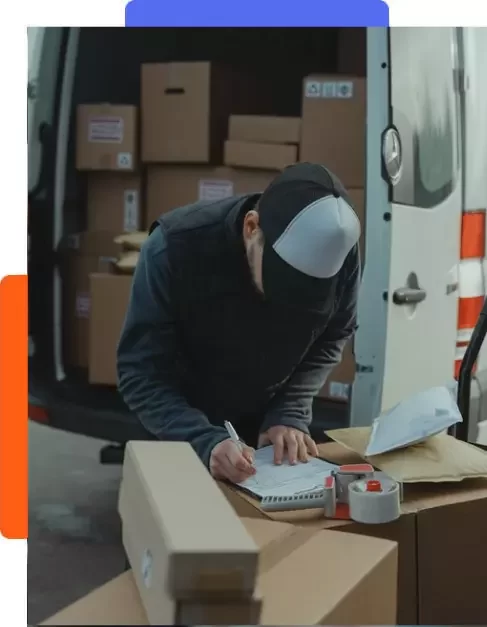 Car Transportation Charges from Navi Mumbai to Anywhere in India
At Southern Cargo Packers and Movers, we are an experienced car transportation company offering hands-on solutions to our clients with efficiency. We provide cost-effective car transport services in Navi Mumbai to cover far-off locations pan India.
When you make your decision to move out of Navi Mumbai, contact us for professional car shifting services at reasonable rates. Your entire experience will be a relaxing one at Southern Cargo Packers and Movers.
How much to transport a car depends on a variety of factors. Some of them have been mentioned below:
Car Type
The type of car you want to transport makes a big difference in your car transportation charges. We carry all car types from Navi Mumbai to different parts of India.
For instance, we charge ₹ 9,000-10,000 to carry a hatchback from Navi Mumbai to Delhi, but we charge ₹ 15,000-17,000 for the same distance for an SUV. Request a special price quote if your car is worth over ₹ 25 lakhs.
Distance Travelled
The distance for which you want us to carry your car will also affect the car transport charges you have to pay. We have multiple price slabs for 0-500 km, 500-1000 km, 1000-1500 km, 1500-2000 km, and beyond 2000 km.
For instance, we charge ₹ 8,000-10,000 to carry a sedan from Navi Mumbai to Pune, but you have to pay ₹ 12,000-15,000 to transport the same car from Navi Mumbai to Kolkata due to the difference in distance.
Dedicated or Shared Carrier
Dedicated car transport services are costlier than shared carriers. A dedicated truck carries your car in a separate vehicle. In contrast, if you opt for a shared carrier, we take your car in a bigger vehicle with other cars going in the same direction.
Insurance
Unavoidable circumstances like fire, theft, riot, and accident may happen, due to which your car may get damaged during transit. This is why we recommend you buy transit insurance for your vehicle. However, if you purchase insurance, you will have to pay its premium, which will add to your car transportation cost.
Here is a price chart that shows how much does it cost to transport a car by truck, based on its type and distance travelled.
Car Transport Services Cost to Pan India
These are just approx. rates for moving your car from Navi Mumbai to PAN India. For exact quote, please call us.
| | | | | | |
| --- | --- | --- | --- | --- | --- |
| | | | | | |
| | | | | | |
| | | | | | |
| | | | | | |
| | | | | | |
| Any four wheeler above 25 lakhs | | | | | |
What are the Advantages of Hiring Car Transport Services in Navi Mumbai?
Many people shifting their house or office decide to drive their car to the new location. However, they are unaware of the many benefits they may gain by looking for professional car transporters near me. Here are a few benefits you may expect by hiring Southern Cargo Packers and Movers:
Convenience
We pick up your car from your doorstep and deliver it right to your new home's doorstep. Our door-to-door car transport services mean less hassle and stress for you. Simply book our service, make your payment, and wait for our experts to pick up your car at the scheduled time.
Trustworthiness
Transferring your car to a new city entails plenty of inconvenience and frustration. Therefore, counting on a car shipping company like Southern Cargo for the needed assistance is an excellent thing to do.
Our trustworthy service providers ensure that your car reaches your destination safe and sound. You don't need to worry about any missing parts or car damage. The kind of trustworthiness we offer will help you breathe easy.
Peace of Mind
Our professional door-to-door car transport services in Navi Mumbai will provide you peace of mind during the relocation process. Rather than cutting corners and finding outsourced ways to carry your car, we offer credible and dependable services that go a long way in relieving your anxiety while shipping your car to the new address.
Easy Availability
Our car transport services are available at your convenient date and time. Transporting your car on a weekend or festival will not be a problem.
If you cannot schedule a car pickup on a weekday due to work commitments, our easy availability at your convenience will be an outstanding feature. However, remember that weekend rates may be higher than usual due to higher demand and less availability of vehicles, labourers, and other required resources.
Customer Service
We, at Southern Cargo, are reputable Packers and Movers Navi Mumbai providing excellent customer service levels to our clients. That means you get helpful, polite, and friendly assistance when you want it the most.
Damage-Free Transportation
We are a reliable company that takes the best possible care of your car. That means you may expect 0% damage to your car during transportation. Our transit insurance gives financial protection in case of a mishap.
To reduce the chances of damage to your car and to gain all the benefits mentioned above, you need to hire the right car shipping services near me. Shipping your vehicle requires attention to details that only Southern Cargo Packers and Movers can understand.
With the right car transport company by your side, the entire process becomes a lot easier and less complicated. For more information, contact us at Southern Cargo Packers and Movers.
6 Reasons Why to Choose Our Moving Services?
Points to Avoid While Shifting Your Car From Navi Mumbai
While looking for anything, humans always want to get the best deals that deliver value for their money. However, many times, intending to get the cheapest deal, people tend to overlook the service quality they get in return. You must avoid these few points to stay safe against any mishap.
Falling into the Trap of Low Prices
While it may sound tempting, you should never choose a car transport service in Mumbai just because it is cheap. Cheap service providers keep their rates low because of a reason, which may be inexperience, unskilled labour, rude staff, etc. Some companies also use your car for their personal use and deliver, which again damages your vehicle. You would not want such people to handle your precious car.
Overpaying Because of No Reason
Contrary to the above point, you should not overpay than average. Compare car carrier services near me and find the cheapest rates without compromising quality. Southern Cargo is one of them, as we always keep trustworthiness in mind while keeping our prices as low as possible.
Not Buying Insurance
When the packers and movers take full responsibility for transporting your car, why would you want to pay extra for insurance? This is what most people think while hiring car transport services in Navi Mumbai. However, this is a wrong notion that you must avoid at every cost.
Filling the Fuel Tank
Fuel in your car increases weight and heightens risk during transit. Therefore, you should always avoid filling the fuel tank to the brim while transporting it.
Although car transporters will take each possible step to keep your car safe and secured, unavoidable circumstances may put your asset at stake. Unpredicted events like road accidents, fires, riots, earthquakes, or theft may happen. Transit insurance offers you financial support in case such a thing happens.
Southern Packers and Movers are your true friends when you plan to shift from Navi Mumbai. We know all the difficulties you may face while relocating to a new place. Thus, we offer the best car transportation services to ensure a smooth relocation to anywhere in India from Navi Mumbai.
Intercity Car Transportation Services from Navi Mumbai to Across India
Southern Cargo Packers and Movers is a professional car transportation company providing intercity car moving services pan India with positive results. We have a strong network of 23 branches across India. 
We consider each and every detail while taking your car from Navi Mumbai across India. With first preference to our customers, we deliver your car in undamaged condition in any of the following cities across the country.
Faqs About Car Transport Services in Navi Mumbai
No. Car transportation charges vary from one car type to the other. We have different charges for hatchbacks, sedans, SUVs, MUVs, and luxurious cars. The bigger and costlier your vehicle is, the higher will be its carrier charges. Therefore, refer to our rate chart to know transport charges for your car type.
The distance between Navi Mumbai and Kolkata is around 2,000 km. Therefore, charges may vary from ₹ 13,000-22,000 and above, based on the car type you want to transport.
We ask you not to fill your fuel tank to the brim to avoid extra weight and mitigate any accident risk. However, it should not be empty either. It must have a few litres of fuel so that we can operate it while loading and unloading. Ideally, it would be best if you filled 1/4th of its fuel capacity.
Our car transport services in Navi Mumbai take around 6 hours to carry your car from Navi Mumbai to Surat. However, there might be delays in delivery due to traffic congestion, vehicle breakdowns, and other inevitable circumstances
Checklist While Handing over your Car for Transporting from Navi Mumbai
While moving to a new house, you must be looking for a car transporter in India. Ensure that you hire only genuine car transport services in Navi Mumbai who are experts in what they do.
To safely and securely relocate your car anywhere in India, here is a checklist of things to do before handing over your vehicle to our transporting experts at Southern Cargo.
1. Cleaning
Cleaning your car before transporting it not only makes it look good but also allows you to notice any damage or dent quickly. If you miss them, you may falsely claim them from your insurance provider, which they will definitely reject.
2. Removing Any Personal Belongings
While cleaning the car, remove all personal belongings from it. If you leave your things in the car, the transporters do not take responsibility if they get damaged, lost, or stolen.
3. Removing Detachable Accessories
Remove any detachable luggage racks, antennas, GPS, fog lights, etc. They may get damaged during transit or damage other vehicles being carried alongside. Removing these accessories and disabling all alarms will make things a lot easier for our transportation experts.
4. Checking for Issues
Before handing over your car to us, check for any issues yourself, such as low tyre pressure, oil leaks, etc. Get them fixed to avoid an unfortunate incident during transit.
Now your car is ready for transportation without any worries.