Southern Cargo Packers and Movers
Car Transport Services in Thane: Trusted Experts to Move Your Car Pan India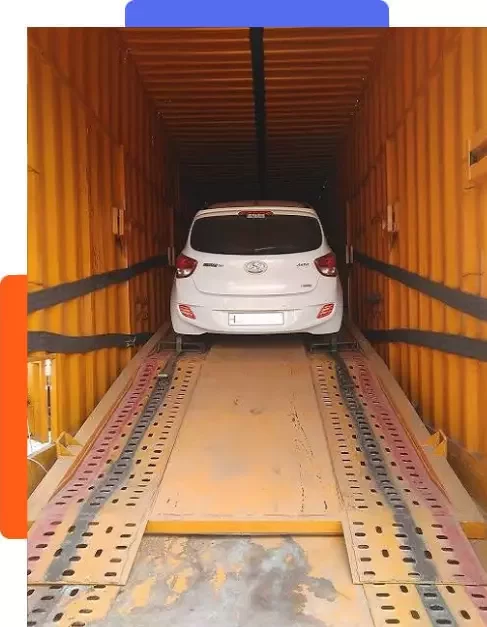 Are you looking for car transport services near me in Thane? Trust upon us for damage-free door-to-door delivery at an affordable price. Once you fix your shifting date, seek our expert service to avail nationwide car transport at the lowest rate.
Southern Cargo Packers and Movers is one of the most trusted names in the car transportation industry. We offer far-reaching services for all your relocating-related tasks. If you are looking for protected, proficient, and authorised car transport services in Thane, we stay prepared to handle all sorts of moving services pan India.
We have a history of 13+ years of serving our clients with effective, expert, and solid car transport services. After spending significant time analysing your transportation needs, we recommend you the best service at affordable rates. We have expertly trained our staff and labourers to handle your car transport needs without any hitches.
Looking For Car Transport Services Thane?
Get Instant Quote
Where are you moving to? If you are in hurry, Call us at 9372102519 or fill out the form below to get a free moving quote within minutes.
Top 8 Advantages of Hiring car Transport Services in Thane
Your car is one of the most prized possessions you own in your life. However, when it comes to shifting your house, Packers and Movers Thane help you take your car along with 100% safety.
If you are moving across the state borders, self-driving exposes your car to unfamiliar surroundings on the highways along with extra wear and tear. This is when you must look for car carrier services near me who can help you organise your car pickup and drop-off wherever you need.
There are several significant benefits of hiring car services. You save the hassle and time of planning your road trip and ensure that your vehicle reaches your destination securely and quickly. Below, explore the top eight benefits of hiring car carrier services from Southern Packers and Movers.
1. Reduced Worry and Planning: While self-driving to the destination, you will need to make several preparations for the long-haul road trip, such as hotel stays, meals, rest stops, etc. You also need to stay prepared for car breakdowns, tyre punctures, and road accidents.
By hiring our car transport services, you can direct your focus to other important matters while shifting your house. We will take care of all the necessary arrangements without making you stressed and overwhelmed. Besides that, the enclosed truck protects your windshield from debris and other road elements.
2. Time-Saving: Driving your car takes a lot of time that you could have spent on other productive tasks during the relocation. Instead, you may hand over your vehicle to us and take a flight to your destination to save time.
3. Vehicle Protection: Driving hundreds of kilometres will add unnecessary wear and tear to your car. It reduces its resale value, adds miles to the odometer, and adds to its maintenance costs. Shipping your vehicle through also keeps your tyres in good shape and protects your windshield from insects and pebbles on the highway.
4. Enhanced Safety: Travelling for several hours on highways puts you at enhanced risk for accidents. Driving for several hours continuously also causes intense back pain and soreness. Instead, you can trust us to handle your car transport while you may relax and reach your destination in a flight.
5. Reduced Expenses: You may think that car transport service in Mumbai and Thane will cost a lot unnecessarily when you can save money by self-driving your car. However, when you add up the costs of gas, hotel, meals, and car repairs on the way, the shipping service won't make a significant cost difference. Besides that, consider the risk factor while self-driving your car for such a long distance.
6. Multiple Vehicle Move: Many households have more than one car these days. The cost of self-driving will multiply if you drive them separately. Since you may get a discount on shipping more than one car, you save even more money and reduce stress.
7. Door-to-Door Shipping: We offer door-to-door car pickup and drop-off services, which is one of the most significant benefits of hiring us for convenience. So, you don't need to worry about taking your car to our location and receiving it from our office in your destination city.
8. Professionalism and Reliability: We are a reputable car shipping company that only works with experienced, licensed, and trained drivers. You can stay confident that we will ship your car safely on time using proper equipment.
Checklist While Handing over Your Car for Transporting from Thane
Hiring car transport services in Thane is the best decision you should make to transport your car from one city to the other. At Southern Packers and Movers, we are a genuine company with expertise in what we do. However, before you hand over your car to us for transport, here is a checklist of things to do.
Wash and Clean Your Car
Your car not only looks excellent after washing, but it also becomes easier for you to identify any dents and scratches. In the event of damage, the insurance will not cover it if your claim seems to be false.
Remove Any Personal Items
While cleaning the car interiors, don't forget to remove all personal items from it. You don't want them to toss around during transit. Besides that, the insurance does not cover them in case they get lost, damaged, or stolen on the move.
Remove All Detachable Accessories
Antennas, fog lights, GPS system, music system, luggage, etc., should be removed before you hand over your car to us for relocation. Doing this will save them from damage, loss, and theft. Disable all alarms and alerts to avoid disturbance to the driver and labourers.
Check for Any Car Issues
Check for issues like under-inflated or over-inflated tyres, oil leaks, etc. Such problems may cause unfortunate incidents during transit and also damage other vehicles on the truck.
Once you have checked these things, your car is ready for the shift without worries.
Car Transportation Charges to Transport Your car from Thane
Southern Cargo Packers and Movers is your true friend during testing times when you are planning to shift. We know how challenging it is to relocate a house. Thus, we offer the best car transport services in Thane to ensure a smooth shift.
How much does it cost to transport a car in India? We determine your car transport charges based on the following factors:
Distance Travelled
The farther you plan to shift from Thane, the more you will need to pay for your car transportation. For instance, transporting a hatchback within 500 km will cost ₹ 7,000-8,000, but the same car will cost ₹ 10,000-13,000 for a distance between 1500 and 2000 km.
We have different price ranges for 0-500 km, 500-1000 km, 1000-1500 km, 1500-2000 km, and beyond 2000 km. So, calculate your new home's distance from Thane first and then refer to our rate chart to get an estimate.
Car Type
We consider your car type while calculating your car transportation charges. For instance, car transporters near me will charge ₹ 10,000-13,000 for a hatchback from Thane to Kolkata, but ₹ 18,000-22,000 for the same distance for an SUV. The higher the car model you want to carry, the more you will need to pay. If your car is worth more than ₹ 25 lakhs, send us a request for a special quote.
Transit Insurance
We offer transit insurance to keep your car safe during the trip. Although we take extreme care to ensure safety for your car, certain inevitable circumstances are not in our hands. These may be anything from a fire or riot to a road accident. In such unfortunate times, transit insurance gives you the financial support that you can get by claiming against your vehicle's damage.
However, you need to pay extra to buy transit insurance. The higher the insurance amount you buy, the bigger premium you will need to pay. It will ultimately add to your car transportation charges.
Type of Carrier
You may opt for a shared or a dedicated carrier to carry your car. A dedicated car carrier takes your car separately to your destination. However, it costs more than a shared carrier that carries several vehicles on the same truck. So, the type of carrier you choose for your car makes a difference in determining
How much does it cost to transport a car by truck
Look at the rate chart below to estimate your car transport charges depending on the aforementioned factors.
Car Transport Services Cost to Pan India
These are just approx. rates for moving your car from Thane to PAN India. For exact quote, please call us.
| | | | | | |
| --- | --- | --- | --- | --- | --- |
| | | | | | |
| | | | | | |
| | | | | | |
| | | | | | |
| | | | | | |
| Any four wheeler above 25 lakhs | | | | | |
Intercity Car Transportation Service Offered by Southern Cargo
Southern Cargo Packers and Movers provide all-India car transportation services in Thane. Our motto is to supply hassle-free, express service to our clients while transporting their car from Thane to anywhere in India. We have an excellent team of trained professionals who ensure that your vehicle reaches your destination safely without any damage.
Whether you are looking for car transport services in Navi Mumbai, Thane, or Mumbai, we take complete responsibility for taking your car safely to any of the following cities pan India.
Top Faq's for Car Transportation in Thane
Different car transport service providers have different pricing systems. At Southern Cargo Packers and Movers, we determine your charges based on your car type, distance travelled, insurance, and carrier type. Unlike other transporters who surprise you with hidden charges, we have a transparent rate chart uploaded on our website. You can look at this rate chart to get an estimate of your car transportation charges.
We give you two options of carriers: shared and dedicated. A dedicated car carrier takes only your car from your pickup address to the drop-off address. If you opt for a shared carrier, we will take your car in a bigger carrier along with several other vehicles going in the same city. That is why a shared type of carrier is cheaper than a dedicated one due to the exclusive service we offer to your car.
Once you know how much to transport a car in Thane, understand that saving money on car transportation requires thoughtful planning and execution. Advance booking of our professional experts ensures quality service at affordable rates. Washing your car, checking for any issues, and not filling the fuel tank up to the brim may reduce your transportation charges. Lastly, plan your move on a weekday to avoid extra charges due to low availability.
Whether you have a hatchback, sedan, SUV, or MUV, we can help you transport it from Thane to anywhere in India. However, if you have a car worth more than ₹ 25 lakhs, you must request a special quote from us. We also offer transport services for two-wheelers, like bikes and scooters.
The time taken to transport a car from Thane depends on the city where you want to shift your vehicle. The farther the distance is, the more time it will take. Weather conditions, truck breakdowns, and traffic congestions may also delay your car transport duration.
Points to Avoid While Transporting Your car from Thane
We, as humans, are wired to seek the best deals. Since all of us are emotionally connected to our cars, you can trust us for safe car transport services in Thane. However, before you hand over your car to us for transporting, look at the following points you must avoid:
Do not go for cheap carriers
You will find several car shipping services near me offering car transport services at cheaper rates than us. However, you should never fall into the trap of low prices. Cheap carriers are cheap because of a reason. All they can do to keep their costs low is reduce the quality of their service.
With novice labourers and drivers, there are high chances that they will mishandle your precious car, or worse, damage it. Therefore, instead of opting for cheaper car carriers than us, prefer quality over price and trust us for safety.
Do not overpay
This is precisely the opposite of the previous point. Always compare prices and choose us for the best service at affordable rates.
Do not ignore insurance
You decided not to get transit insurance, right? Transit insurance is a must while transporting your car across state borders. While we take extreme care of your vehicle during transit, unexpected events may happen, like accidents, fire, theft, or riot. So, do not ignore insurance before transporting your car with us.
Do not fill the fuel tank to the brim
Ensure that your car's fuel tank is not full. Ideally, you should keep around 25% fuel in it to allow necessary transit, but it should not be full. A full tank will add to the road risk and add to the vehicle's weight unnecessarily.
Car transportation needs a good amount of management and planning. Although it may cost a bit, keeping your car protected during transit is worth the expense. Prepare your vehicle for the move using the tips mentioned on this page, and call us to schedule your move.