Southern Cargo Packers and Movers
Home Shifting Services in Mumbai Made Easy- Thanks To Southern Cargo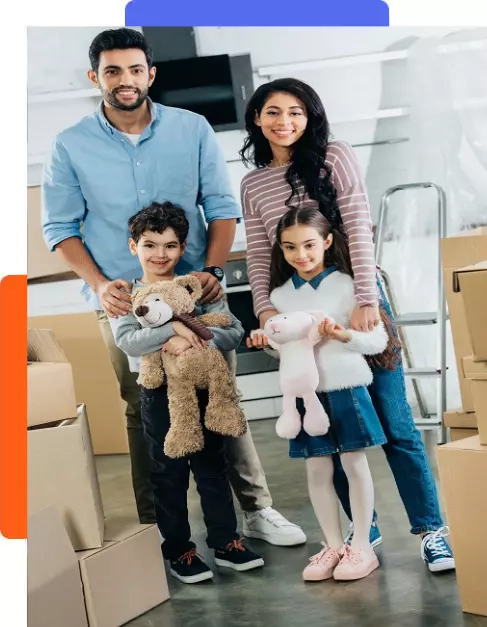 House shifting services in Mumbai provided by Southern Cargo Packers and Movers are of the highest quality at the best possible rates. While in Mumbai, when it comes to finding house shifting services near me, we will not let you down.
Our ultimate goal is to satisfy our customers with the best home shifting services at affordable rates. We are a reputable and reliable company guaranteeing a stress-free relocation experience.
With support from our expert packers and movers Mumbai, we complete each aspect of the relocation project safely and timely. Assured safety and timely delivery of your goods reduce all your worries.
We take care of your baggage while staying within your budget, and provide you with the most reasonable quote based on your distance to be travelled, home size, and move volume.
While prioritising your good's safety, we offer end-to-end household shifting services in Mumbai.
Wondering what it is that makes us different from the others? Our most sought-after features include no hidden charges, no surprises on the shifting day, allowed modification in the shifting schedule, 100% safety to the precious goods, and hassle-free relocation management under experts.
If you are looking for reliable packers and movers in Mumbai, look no further. Get quotes for our trusted home relocation services Mumbai by contacting us now.
Looking For Home Shifting Services in Mumbai​?
Get Instant Quote
Where are you moving to? If you are in hurry, Call us at 9372102519 or fill out the form below to get a free moving quote within minutes.
Local Shifting Charges for Home Shifting in Mumbai
The total Mumbai area is 603.4 km2. This means that even if you plan to shift within Mumbai, it will take a lot of time and effort to complete the process. The charges for local shifting in Mumbai depend on various factors, including the distance to be travelled and home size. 
For instance, shifting a 2BHK house within 10 km will cost ₹ 7,500-10,000, 10-50 km will cost ₹ 8,000-10,500, and 50-100 km will cost ₹ 10,000-13,000. You will find the complete local shifting charges in the table below.
Local Packers and Movers in Mumbai Charges
Local Shifting in Mumbai Within 10km
Local Shifting in Mumbai Within 10-50km
Local Shifting in Mumbai Within 50-100km
Domestic Household Shifting Charges Pan India
Southern Cargo Packers and Movers has been offering domestic shifting services to places across India. Whether you want to shift from Mumbai to Kerala, Jaipur, or Kolkata, our team members make your move completely safe and convenient. However, the house shifting transport charges to different parts of India depend on the distance to be travelled and the home size. 
For instance, to move a 2 BHK house from Mumbai to Surat, the home shifting services in Navi Mumbai would charge ₹ 15,000-20,000. The rates will be the same up to 500 km but increase for slots of 500-1000 km, 1000-1500 km, and 1500-2000 km. For a distance above 2000 km, please send us a request for a price quote.
Are you planning to shift from Mumbai to any other city in India? Refer to the table below to find transportation of household goods by road cost.
Packers and Movers Mumbai Rates for Domestic Home Shifting
These are just approx. rates for domestic home relocation to PAN India. For exact quote, please call us.
6 Reasons Why to Choose Our Moving Services?
Types Of Home Shifting Services that Make Your Home Relocation Safe and Convenient
House shifting is a tedious task that needs proper planning that only experienced house shifting services in Mumbai are good at. Their overall relocating expertise makes your shifting experience a pleasant and memorable one.
At Southern Cargo Packers and Movers, we offer two types of household shifting services in Mumbai:
Local shifting in Mumbai is the most common and affordable type of relocation. Since only a short distance is involved in local shifting, it does not include extensive packing and moving with insurance. 
However, that does not mean you can just stuff your belongings in a truck and move. Hiring quality home relocation services Mumbai will save the time and effort required for full packing, unpacking, loading, unloading, and transporting your goods. 
We handle local home shifting in Mumbai to all localities and neighbourhood areas.
India is a vast country, and people might be connected with more than one city. People may often need to change their city due to various reasons for work, business, family, education, health, etc. Our full-fledged intercity relocation services serve you best with reasonable house shifting transport charges.
Let us know your home shifting requirement and request a quote. Once you book our household moving service, our reliable home shifting experts will take care of the rest.
Neighbourhood Areas Covered by House Shifting Services in Mumbai
Since 2009, Southern Cargo Packers and Movers has been making your home shifting in Mumbai easy by covering all the neighbourhood areas. We specialise in shifting to almost all these places across Mumbai:
Intercity Home Relocation Service by Southern Cargo Home Shifting Services Mumbai
Southern Cargo Packers and Movers is a leading name in the industry of home shifting in Mumbai. Committed to offering the best relocation services, our team members are experts in packing and moving all kinds of goods from one city to the other. 
Are you thinking of shifting to any part of the country? We put you first and leave no stone unturned to gain your trust and confidence with our humility, integrity, and honesty. Check out the cities we cater to pan India.
How to Prepare for Home Shifting in Mumbai? (8 Useful Tips)
Preparing before the move is one of the most complex tasks you need to stay abreast with.  Packers and Movers can help you with the packing, transporting, and unpacking of goods. There are several other things you need to prepare before shifting your house. 
Following are some great tips to prepare for home shifting and make the process streamlined:
1. Make a Listing and Create a Budget
The moving listing must include a timeline and a budget. Everyone has a different timeline, based on the period available before the move. For instance, some people need to shift within a couple of days, while others have two months at disposal. By organising the move beforehand, you may handle the events as you come across them.
Make a list of things to be done, create a budget, and share it with your packers and movers to let them know your plan and expectations. Based on their experience, they may suggest some changes to suit you better.
2. Transfer Utility Services
Before shifting, disconnect your utility services like gas, water, and electricity from your old house and transfer them to your new address. As soon as you decide the shifting date, notify your utility companies to update your new address.
Besides these, contact your DTH and internet connection providers to reinstall and activate their services in your new home.
3. Update Your New Address
Even before making the move, you may start updating address in your bank accounts, insurance companies, driving license, credit cards, voter ID card, Aadhaar card, etc. Gather your birth certificates, medical records, insurance policies and other essential documents and keep them in a safe place to carry with you.
4. Photograph the Valuables
Shifting your valuables is stressful as their safety is often put at risk. So, take proper precautions to ensure their safety, buy insurance, and take photographs to identify any damages.
The pictures will prove their original condition and help you get compensation if damaged during the transit.
5. Apply for leaves from work
A weekend may not be enough to complete the move. You may need several days before and after the relocation to settle in. Some people avoid shifting on weekends due to heavy traffic and high rates of packers and movers.
Therefore, inform your employer about the prospective move and take leaves to change the house. Consider staying flexible about your relocation dates according to the available leaves.
6. Prepare for Packing
Before you start packing your stuff, get rid of any unwanted items to reduce the burden. Although experts providing home relocation services Mumbai will handle all the packing tasks in high-quality materials, you must decide what goes where.
7. Complete Any Pending Tasks
Hold all the loose ends before finalising the relocation date. Confirm and accomplish all the pending tasks before making the move. Whether you need to visit offices, make phone calls, send emails, or meet friends, set reminders in your calendar and complete them to ensure you do not forget anything.
8. Hire Skilled Household Shifting Services in Mumbai
Hiring the right company makes your move a memorable experience. Request quotes from skilled and experienced packers and movers only. Don't be afraid to raise queries and clear all your doubts before signing the agreement.
Due diligence will provide you peace of mind right from the time of booking to the moving day.
5 Crucial Features You Must Look for in the Best House Shifting Services in Mumbai
Moving house is a hectic, time-consuming, and stressful process that most households prefer outsourcing to professional home relocation services Mumbai. However, you cannot trust any movers and packers you come across.
Here are a few features to look for before hiring them.
1. Authenticity
Genuine companies offering house shifting services in Mumbai have all the documents and licenses in place. They will even show them to you when you request.
Check their service tax and trade license details and look for their registration number in the bills they generate.
2. Background
Talk to their past customers to check their background and skill level in packaging and relocating.
Speak to real people and get references from them instead of relying on the company's website testimonials. You may also read their online reviews to see what their past customers have to say.
3. Experience
Experienced companies offering home shifting services Mumbai must have handled different types of home shifting projects for varied customers. They must be well-versed with all the rules and regulations for intercity as well as local shifting in Mumbai, along with packaging materials, safe transportation, insurance etc.
So, experience matters a lot when it comes to hiring packers and movers.
4. Team Members
The team members who arrive at your home should know the ins and outs of packing and transporting different types of materials. They must listen to your requirements with patience, work according to your expectations, and suggest better ways to make a pleasant move.
5. Cost
The household shifting charges quoted by relocation service providers should be reasonable and transparent without any hidden costs.
Thane is a metropolitan city located just outside Mumbai at a distance of around 23 km. So, home shifting services in Thane would cost ₹ 8,000-10,500 for a 2 BHK house. These include packing charges, labour charges, and tempo charges. The charges may increase with your home size.
Yes. Our intercity relocation services can handle your move from Mumbai to Kolkata. However, it covers a distance of over 2,000 km, for which you need to request a quote from our customer representatives. The charges will depend on the distance to be travelled, your home size, and the types of services you avail of from us.
Several factors may affect your intercity household shifting charges in Mumbai. These include the distance to be travelled, weight and quantity of items, packing materials required, home size, the workforce needed, time and season of the shift, etc.
Packers and movers often charge higher rates on weekends and month ends due to higher demand for their services. The cost goes higher due to the limited availability of the workforce and free slots. If you are not in a hurry, try to schedule your relocation on a weekday or in the beginning or middle of a month.
GST on transportation of household goods is 5%. However, if you avail of all the shifting services of the packers and movers, they will charge 18% GST on your bill. This is because the GST on transportation is 5%, but it is 18% for insurance and full-service home relocation services.
Yes, we offer car transport services as well across India. The charges depend on your car type and the distance to be travelled.
Packers and movers offering home relocation services Mumbai will safely pack and transport your goods, including baggage, furniture, furnishings, and artefacts. You can also avail unpacking services if you want at extra cost. Therefore, it is crucial to find reputable service providers who can safely and efficiently handle these tasks while relocating.
Southern Cargo Packers and Movers is a well-known company offering home shifting services Mumbai since 2009. We have a vast network pan India with well-trained professionals and high-quality packaging materials for safe transportation. Our main objective is to provide convenience and pleasure to our clients while shifting in Mumbai.
Southern Cargo is a dependable company offering home shifting services Mumbai. Our highly trained and skilled personnel handle the packing, loading, transportation, unloading, and unpacking of goods safely. To keep your goods safe, we use the safest packaging materials for packing.
While looking for the best home shifting services Mumbai, ask for references from your friends, read online reviews, or search online. Before finalising a service provider, check their experience, specialisation, licenses, insurance, and other qualities to ensure excellent service.