Southern Cargo Packers and Movers
Leading House Shifting Services in Thane Offered at The Best Rates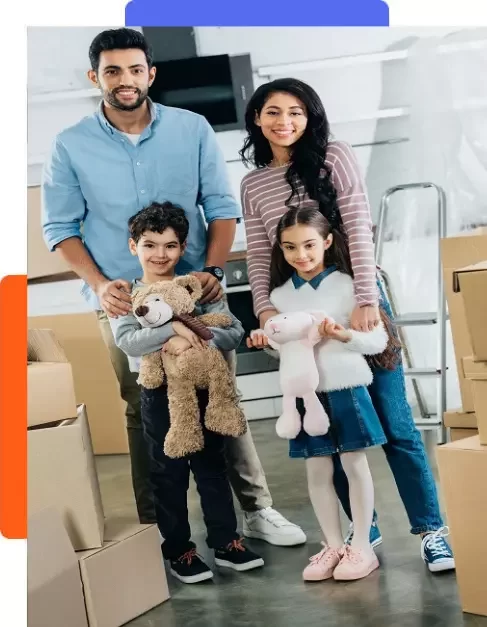 When you relocate to a new place, you begin a new chapter in your life. At this time, only the most wonderful things should happen with you rather than handling the stress of home shifting. Southern Cargo Packers and Movers provide top-class, quick, on-time relocation service in Thane. We are a dedicated and experienced company serving in the field of packing and moving since 2009. We provide all types of home shifting services at very reasonable and adequate prices without any hidden charges.
We relocate your home anywhere you want in India while taking away your stress as much as possible. Are you looking for the best house shifting services near me in Thane? Our team of experts pack your items with careful hands so that you don't need to worry a bit about them. We carefully manage your household goods and pack them with high-quality, appropriate packaging materials. We protect your goods from all hurdles, so they reach your destination without any damage.
Shifting a house is an exciting yet stressful event in any person's life. However, when you leave the home shifting process to the experts, you can make your move without worrying about anything! At Southern Cargo Packers and Movers, we do everything possible to reduce your stress levels, no matter how far you are shifting and how difficult the task is. Right from local relocation to moving anywhere in India, you may count on us as we offer the most reliable house shifting services in Thane.
Our well-qualified team of packers and movers knows its work pretty well. We are skilled and experienced in helping you shift your house. We take care of each and every detail while packing and moving your belongings. You just stay relaxed as your goods reach their destination safe and intact! We also unpack the goods at your destination so that you don't need to worry about anything as you settle in your new home.
Contact us quickly to book a pre-move survey and plan your relocation with us!
Looking For House Shifting Services in Thane?
Get Instant Quote
Where are you moving to? If you are in hurry, Call us at 9372102519 or fill out the form below to get a free moving quote within minutes.
Local Shifting Charges for Home Shifting in Thane
Spread across 147 km2, Thane is a massive city with several districts, lakes, and colonies. At Southern Cargo Packers and Movers, we follow a very systematic process of relocating households within Thane.
When you reach us, we book an appointment with you for a pre-move survey and evaluate the items to be shifted. Then, we will give you a quotation and book your schedule. Our team reaches your place to pack all your belongings on the booked date and time. We move them to your new destination and unpack all your items to set the location for you.
Our local shifting charges are reasonable and transparent. Divided into 0-10 km, 10-50 km, and 50-100 km, the house shifting transport charges increase with distance and home size. Refer to the charges table below for detailed shifting charges of Packers and Movers Thane.
Local Packers and Movers in Mumbai Charges
Local Shifting in Thane Within 10km
Local Shifting in Thane Within 10-50km
Local Shifting in Thane Within 50-100km
Domestic Shifting Charges from Thane to Anywhere in India
At Southern Cargo Packers and Movers, we provide you with full support when you plan to shift from Thane to anywhere in India. Whether you want to make your move from Thane to Kerala, Rajasthan, West Bengal, or elsewhere, we offer high-end home shifting services in Thane at reasonable shifting charges.
For instance, moving a 2 BHK house from Thane to Delhi would cost ₹ 25,000-33,000. The charges increase with distance and home size. For a distance above 2000 km, please send us a request for a price quote. Refer to the table below to find transportation of household goods by road cost from Thane to any other city in India.
Packers and Movers Mumbai Rates for Domestic Home Shifting
These are just approx. rates for domestic home relocation to PAN India. For exact quote, please call us.
6 Reasons Why to Choose Our Moving Services?
Types of Home Shifting Services We Offer
At Southern Packers and Movers, we offer different service types according to our client's requirements and shifting needs. Let us look at the two types of home shifting services you may avail of from us in Thane.
Are you planning to shift anywhere within Thane? Avail local home shifting services we offer within the city.
Our local home shifting services are affordable and all-inclusive. We offer all home shifting related services that you can avail of according to your needs, including packing, unpacking, transporting, loading, and unloading.
The charges may vary depending on the services you opt for, the distance to be travelled, and your home size.
Moving house to a new city is complicated and stressful. There are lots of formalities involved, for which you need expert help from experienced people.
You may avail of our domestic home shifting services while planning to relocate from Thane to any other city pan India. Whether you want to shift to Delhi, Kolkata, Kerala, or anywhere else, we provide you with complete support to make your move as convenient as possible.
We also offer insurance for your goods, saving you from any financial stress in case of a mishap. The charges depend on your home size, distance to be travelled, and the services you opt for.
Whether you are looking for local or domestic home shifting services, let us know your requirements, and we will give you a reasonable quote. Book a pre-move survey with us, and our experts will handle everything while taking care of your emotions.
Neighbourhood Areas Covered by House Shifting Services in Thane
While planning to shift your house from Thane, Southern Cargo Packers and Movers cover all the neighbourhood areas. For instance, we offer house shifting services in Mumbai and Navi Mumbai at affordable rates. Around Thane, we cover all these neighbourhood areas and beyond:
Intercity Relocation Services in Thane
Shifting to another city from Thane takes a lot of time and effort. We, at Southern Cargo Packers and Movers, understand that. Our home shifting services in Thane ensure minimum downtime so that you can go back to your everyday life faster.
We ensure that your intercity home relocation is done smoothly with protection to your interests. Our home relocation services are the most sought-after in Thane, as we take care of each and every detail from the beginning to the end.
What Makes Southern Cargo the Best Packers and Movers in Thane (top 10 Reasons)
At Southern Cargo Packers and Movers, we are a specialist company that assists in making the strenuous task of home relocation a piece of cake for our clients. Owing to the ease we provide in your move, we have become a favourite among households shifting in Thane.
Few reasons why Southern Cargo Packers and Movers are the best home shifting experts in Thane:
1. Professionalism
We have an efficient team of professionals with several years of experience handling local and domestic shifting projects. We follow a proper work model to accomplish the shifting tasks we undertake.
2. Experience
With 13+ years of experience in our respective job, we have a different work approach than an amateur shifting company. We have learnt a lot from our past mistakes and know how to handle adversities efficiently. We give our clients a wonderful shifting experience without stressing about anything.
3. Insurance
Insurance prepares you for any upcoming adverse situation. We understand the emotions and value attached to your personal belongings and offer transit insurance to safeguard them.
Our insurance facility will save you from any monetary loss in case of damage during the transit. Best insurance coverage and easy claim process are the reasons why we are the best moving company in Thane.
4. High Quality Packaging Materials
We are a registered and trusted moving company that understands our customers' sentimental value. We use only high quality packaging materials depending on the fragility of the items. We carefully pack your things and handle them cautiously while loading, unloading, and transporting.
5. Legal Documents
We are a reliable home shifting company possessing all the legal documents, including PAN card, GST registration certification, and genuine moving license. The legal documents we received from the authorities prove our genuineness and trustworthiness.
6. Written Invoice
The written invoice we provide to our clients proves our authentic and transparent manner of working. An invoice is an important document that covers every penny that you pay.
7. Network
We have a vast network pan India, managing each relocation project easily and efficiently. As a result, we can complete our job in time without any delays.
8. Affordable Charges
We follow a customer-friendly approach to provide the best of services to our clients. We keep our household shifting charges affordable and reasonable without compromising on quality.
9. Efficient Transportation
We have our own fleet of transportation vehicles to complete the transportation process effectively. We use the correct type of vehicle for your relocation project, depending on the size and type of items to transport.
Besides being punctual and speedy, we take extreme care to provide the industry's safest and best logistics services.
10. Skilled Manpower
Our team is made up of highly skilled and trained workers who can perform every relocation task in an efficient and smooth manner. We do not leave any loopholes in the shifting process and accomplish all the tasks precisely, thereby ensuring our manpower works as a team.
Not all the moving companies in Thane may have these qualities. That is what makes us the best relocating service providers in the city. With our expertise and experience, we ensure you have a safe and smooth relocation!!!
The household shifting charges depend on various factors, including the quantity of goods, workforce required, distance to be travelled, home size to be shifted, house floor, packaging materials needed, etc.
We make our price quotation depending on the availability of slots. Since the demand is higher during month-end and weekend, the prices may also go on the higher side.
We have a detailed table on our website for intercity relocation charges for different home sizes and distance to be travelled. Thane to Surat is around 270 km, so your charges for a 2 BHK house will range from ₹ 15,000-20,000.
GST home shifting services is 18% in India. However, if you want to avail only transportation service from the packers and movers, the GST on transportation of household goods is 5% of your bills.
We, at Southern Cargo Packers and Movers, strive to provide world-class local and relocation service in Thane. We have highly skilled team members who are experts at carrying goods at each and every stage of relocation. We use the best packaging material to ensure that your belongings reach the destination 100% safe and sound. All in all, our service quality is our USP.
It's better to contact us at least two days before your plan to move. Our experts will visit your house for a pre-move survey and plan the move accordingly.
Insurance is required while shifting from Thane to any other city, including Delhi. It will save you from any financial loss, in case your goods get stolen, destroyed, or damaged during transit.
Although our packers and movers take all the necessary precautions to keep your belongings safe, there might be certain unavoidable circumstances, such as a fire, accident, riot, or theft.
Yes. We will decide the packaging materials required for your goods during the pre-move survey.
We will bring all these materials suitable for your goods, thereby keeping them protected during transit.
The time required to pack and load the goods depends on the number of items to be shifted. It takes around 3 hours to pack and load the items of a 1 BHK room. However, our home shifting services in Navi Mumbai may take a little shorter or longer in some instances.
While we try our best to stick to the schedule, there might be uncontrollable circumstances that may cause a delay in the delivery, such as natural disasters, traffic jams, injuries, etc. If there are chances of delay, our staff members will keep you informed about the situation.