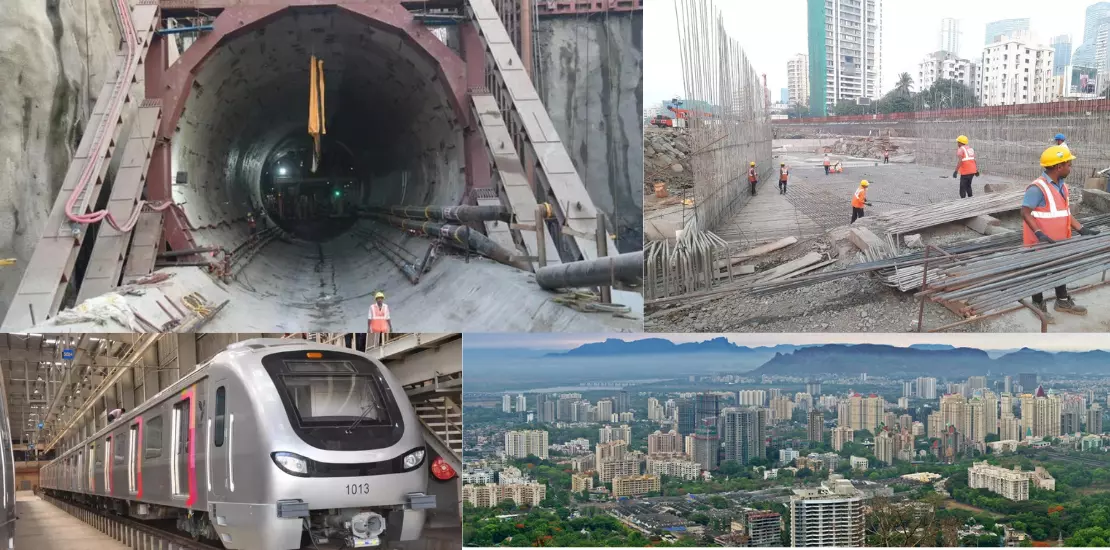 The city of Thane is located in the Indian state of Maharashtra and is home to more than 1.5 million people. While it is a thriving metropolis, it is also one that is constantly evolving. In recent years, the city has seen an influx of mega projects that are set to change its identity and make it one of the most modern and vibrant cities in the country. Here are 12 such projects that you need to know about.
Wait! Before moving onto the list you must make sure to avail best relocation services of packers and movers in Thane if you ever planned to shift to thane or any other cities in India.
Table of Contents
List of 12 Mega Projects in Thane
Let's take a closer look at 12 of these incredible mega projects that are currently underway or in the planning stages.
List of 12 Mega Projects in Thane
1. Thane-Borivali tunnel underground tunnel
The Rs 8900 crore Thane-Borivali underground tunnel will shave off 2-3 hours from journey times on Ghodbunder Road. Once completed, it would take just 15 minutes to travel between the 21 km stretch. 
The project will include a 1km long link road with a 10.20-kilometer subterranean tunnel running beneath the Sanjay Gandhi National Park and connecting Borivali at the western expressway, which will start in Tikuji Ni Wadi (Thane) and finish in Borivali.
2. Thane-Ghodbunder Elevated Corridor
This elevated corridor will decongest traffic on Thane-Ghodbunder Road. The 4.4-kilometer elevated road will cost Rs 667.37 crore to build. This is a crucial connection between the Western Express Highway and NH3. The portion will be from the Fountain Hotel on WEH.
The planned Mumbai Coastal Road will now be extended all the way to Ghodbunder Road from the Bandra-Versova Sea Link (BVSL). The 8-lane, the 29.2-kilometer-long coastal road will run along Mumbai's western shoreline and connect Marine Lines in the south to Ghodbunder Road in three phases. It is expected to cut travel time between South Mumbai and the Western Suburbs from two hours to 40 minutes when completed.
4. Thane-Mumbai waterways
Commuters traveling between Thane and South Mumbai may utilize water transportation to save time. The Thane-Mumbai waterways will cost Rs 661 crore in total, with the first phase connecting Thane with Vasai and Kalyan and the second phase connecting Thane with Mumbai and Navi Mumbai. According to estimates, around 3000 passengers would benefit from this service, saving 1 hour of travel time between Thane and Mumbai while saving 30 minutes of travel time between Navi Mumbai and Thane.
5. Metro Line 4 and 4A (Wadala – kasarvadavali – Gaimukh)
The 32.32-kilometer (20.08-mi) line would be entirely elevated and would comprise 32 stations from Wadala in Mumbai to Kasarvadavali, via Ghatkopar, Mulund, and Teen Hath Naka, a major traffic junction in Thane.
It will link the eastern end of the Eastern Express Roadway with the Central Railway, Mono Rail, the current Metro Line 2B (D N Nagar to Mandale), and planned Metro Lines 5 (Thane to Kalyan), 6 (Swami Samarth Nagar to Vikhroli), 7 (Vikhroli Link Road/Kurla Complex + Andheri Link Road) & 8 (Wadala to General Post Office).
6. Metro Line – 5 (Thane – Bhiwandi – Kalyan)
The Mumbai Metro Line 5 is part of the city's metro network, which will link Thane with Bhiwandi and Kalyan. The 15-station Metro route will cost around Rs Rs 8,416 crore and be entirely elevated. It will assist to relieve road congestion by being entirely elevated.
In the old and new Thane stations on the Green Line and Central Railway, the Thane Metrolite trains will serve as minor feeders. Maharashtra Metro Rail Corporation Limited (Maha Metro) has proposed plans for 29-kilometer light rail transit (LRT) system in Thane, Maharashtra.
8. Airoli-Katai Naka Freeway
The Mumbai Metropolitan Region Development Authority (MMRDA) has completed the Airoli-Katai Tunnel Road plan. It runs for 1.7 kilometers from Airoli to the Kalyan-Shil corridor via a tunnel that cuts through Parsik Hill. The 1.7km Tunnel Road is a portion of the 33.8-kilometer long road that begins at Airoli and terminates in Katai Naka on the Kalyan-Shilphata route. It goes through mangroves, valleys, flyovers, and railway lines. The six-lane road will significantly reduce transit between Airoli and Shilphata when it opens in 2021.
9. Metro Line 12 (Kalyan-Dombivli-Taloja)
The Kalyan-Dombivli-Taloja Line would be a proposed Mumbai Metro route. It will be an extension of the Orange Line. The overall length of the line is set to be 20.75 kilometers (12.89 miles), and it will be entirely elevated.
10. Thane Creek Bridge-III
The Maharashtra State Road Development Corporation (MSRDC) is executing the Thane Creek Bridge(TCB-III) through L&T. The project is now scheduled to be completed by the end of 2023. The new TCB-III bridge adds six more lanes to the existing TCB-II.
11. Thane Cluster Development Project
The people will be able to acquire their own permanent residences under the planned cluster development project. Thane will be the first city in India to rebuild an entire city, as it will assist citizens in moving toward sustainable development. Under this plan, houses are constructed closer together on a particular plot of land rather than dispersed equally throughout the complex.
12. Thane Smart City Proposal
The Thane Smart City Project is a massive initiative that's being undertaken by the Thane Municipal Corporation. The goal of the project is to make Thane a world-class city by improving infrastructure, providing better services, and creating a more livable environment.
The Thane Municipal Corporation has been given around Rs 5,235 crore for smart solutions to help it realize its ambition of a smart city. Some plans are in the final stages, while others have already begun. A total of 185 small and major projects, such as a station area traffic improvement project (SATIS), solar power plant, kamal lake project, Hariyali Lake Project, and Water Travel are in progress.
I bet! projects like smart city, Thane metro, and Thane coastal road will completely change the way we live and travel in the city…  Do you know what is the most exciting thing about Thane? That it always keeps evolving toward a dynamic metropolis. Let me know what you think about Thane becoming a Megacity one day?