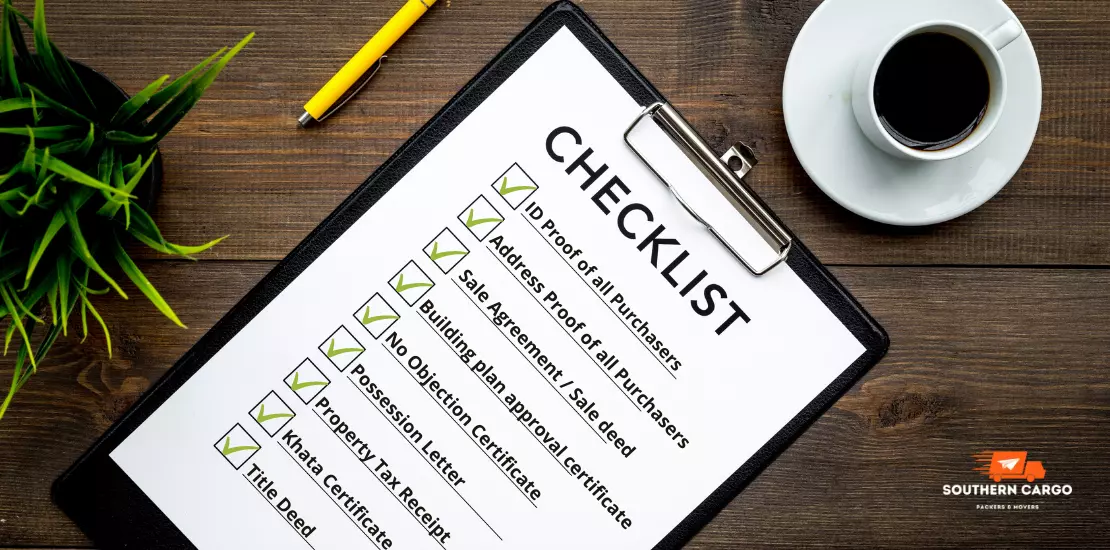 There is a lot to consider when you're buying a new home like what location you should choose, required documents, and many more but things didn't get done here. After purchasing your new home the next big task is moving.. yeah! you heard it right. But if you hire thane packers and movers they will get through this grueling process and relocate you safely to the newly bought home.
When you are buying a property, the documents required vary from state to state. In Maharashtra, there are certain specific documents that are needed in order to complete the sale. In this blog post, we will be discussing all of the documents that are required for a property purchase in Thane, Maharashtra.
List of Documents Required for Buying Property in Thane:
1. ID Proof of all Purchasers – PAN Card/Aadhaar Card/Voter ID card, etc.
The first thing you will need is a copy of your PAN card. This is required for all transactions above Rs. 200,000. You will also need two passport-sized photographs and an ID proof such as your Aadhar card or driving license or voter ID card.
2. Address Proof of all Purchasers – Ration card/Driving License/Passport, etc.
When you're buying a property, the seller will want to see proof of your address. The most common form of address proof is a ration card. However, other forms of address proof such as an electricity bill or telephone bill are also accepted.
3. Sale Agreement / Sale deed
This is perhaps the most important document when it comes to purchasing a property. The Sale Agreement is a legal contract between the buyer and seller on the property and outlines all of the terms and conditions of the sale. It should include information such as the name of both parties involved, the address of the property, the purchase price, etc. There's a need for stamp duty and registration fee in order to complete the registration of the Sale Agreement, which can be paid online through the GRAS portal.
4. Title Deed
The Title Deed is a document that proves ownership of a particular property. It contains information such as the name of the owner, date of purchase/sale, encumbrances (if any), etc. In order to transfer ownership of a property, it is essential to have a valid Title Deed. write some more
5. No Objection Certificate (NOC)
The No Objection Certificate is issued by the local Municipal Corporation and is needed in order to transfer the property ownership. It states that the property is not under any legal disputes and that all dues have been paid.
6. Possession Letter
The Possession Letter is given to the buyer once the seller hands over possession of the property. It confirms that the buyer is now the rightful owner of the property.
7. Property Tax Receipt
This document shows that all taxes on the property have been paid up-to-date.
8. Khata Certificate
A Khata Certificate is issued by Municipal Corporation and is needed to prove that the property has been legally built, and has all the required permissions.
9. Building plan approval certificate
Copy of approved building plan sanctioned by competent authority (for properties which are under construction or redevelopment). If there is no building plan, then an NOC from the competent authority will be required
These are the basic documents required. However, there are a few other things that you must keep in mind while buying property in Thane. The location of the property is extremely important. Make sure that the property is located in a good neighbourhood.
Additionally, check for water and electricity supply, as well as connectivity to the rest of the city. Once you have considered all of these factors, you can begin looking at properties! Keep this checklist in mind, and you will be sure to find your perfect home in Thane.
Once you have found a property, you will need to negotiate the price with the seller.
Once the price is agreed upon, you will need to pay a token amount as an advance. This is typically around 20% of the total purchase price. The balance amount can be paid via bank transfer or through a home loan.
Once the payment has been made, you will need to register the property in your name at the sub-registrar office. This is a legal requirement and must be done within four months of paying the advance.
After registering the property, you will need to obtain a No Objection Certificate (NOC) from the builder if it is a new property. If it is an old property, you will need to get an NOC from the previous owner.
Once you have obtained the NOC, you can apply for a home loan if you are taking one. The loan process can take anywhere from a few days to a few weeks. Once the loan is approved, you will need to pay the balance amount and obtain possession of the property.
If you have all of these documents ready, then you are well on your way to buying property in Thane! Just make sure to do your research and work with a reputable real estate agent to find the perfect home for you.
Now that we have gone over the document checklist, let's discuss some tips on how to make the purchase process as smooth and stress-free as possible:
Congratulations! You are now the proud owner of a new property in Thane!
The process of buying a property in Thane may seem daunting at first, but if you have all the necessary paperwork in place, it can be a smooth and hassle-free experience.
We hope this guide has been helpful in getting you started on your journey to becoming a homeowner. If you have any further questions, feel free to get in touch with us and we will be happy to assist you. Happy house hunting!