Packing the bathroom items efficiently takes some diligent organisation that you will understand in this guide.
The bathroom is one of the most neglected parts while planning a move to a new house. It's not about cramming everything into a large box and dumping it in a truck. There are things you never use; some are about to finish, some you may pack early, while others you must keep on the shelf till the last day.
We have categorised bathroom packing into three crucial steps: sorting, de-cluttering, and organising. Below is a 3-step guide to pack your bathroom items while moving.
Table of Contents
Bonus #1: Follow These Extra Tips for Packing Bathroom Items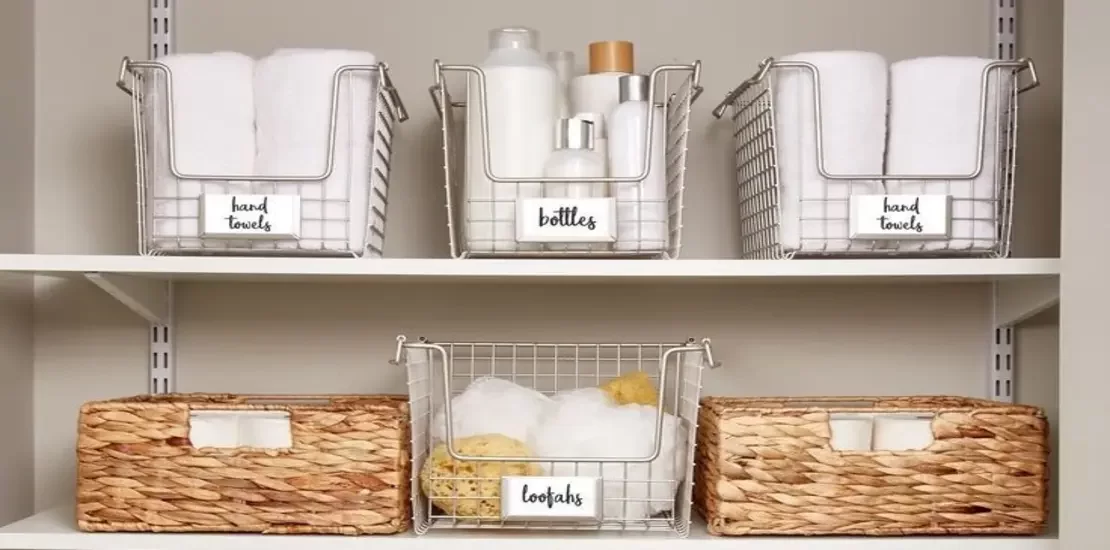 The first step is to gather all your bathroom items and identify the things you need to move. Sorting them into categories will give a better idea of what things you need to pack.
Common categories include accessories, toiletries, cosmetics, hair products, feminine products, linens and towels, cleaning supplies, and chemicals.
By category, sort the items and dispose of the things you no longer use. These may include:
Cosmetics: Throw away the rarely used, broken, dried out, old, or expired cosmetic products.
Appliances: Test all appliances, pack what you want to move, throw away defective products, and give away any extras.
Feminine Products: These are light-weight items that do not cost much to move. However, throw away any items you don't use or those that are expired or damaged due to moisture.
Toiletries and Hair Products: Dispose of any empty or near-empty bottles and throw the products you never use. It might seem like money wastage, but shipping them will lead to unnecessary charges you would want to avoid.
Linens and Towels: If you have ripped, torn, or worn rags, towels, and shower curtains, dispose of them. You may also use them to clean the house before moving out.
Cleaning Supplies: There must be cleaning supplies and chemicals you don't even identify. Besides that, you might not like the smell or efficacy of some supplies.
Remember, many packers and movers do not take paints, ammonia, varnishes, bleach, and other household cleaners in their trucks. So, dispose of such items before making your move.
First of all, pack essential bathroom items like toothpaste, toothbrushes, daily-use hair products, makeup, deodorants, and shampoos. Wrap opened bottles in plastic wrap and put them in a plastic bag.
Line boxes with hair products, toiletries, appliances, etc., using towels. Wrap delicate items in towels to keep them protected. Label such boxes as fragile.
Bonus #1: Follow These Extra Tips for Packing Bathroom Items
Now that you know the 3-step procedure to pack bathroom items, you stand a better chance to complete the task in an efficient and timely manner. These are some bonus packing tips that can make your packing even smoother:
Dispose of any bathroom supplies that you haven't touched over the years. If you have not used them till now, there is no chance you will ever use them in the future.
Do not move cleaning supplies. They are heavy, easy-to-spill, and not allowed to be transported anyway.
Pack shower curtains, bathrobes, and bathroom mats on top of heavy boxes that are not full completely. They will take up that unused space without adding to the load volume. Besides that, they will prevent boxes from falling when stacked on one another.
Washcloths and towels make excellent filling and padding materials. They are light-weight and soft to give perfect cushioning to fragile items. So, instead of packing them separately, keep them in boxes to protect toiletries and other delicate goods.
Ensure that each item is fully dry before packing to avoid mould growth.
Keep essential bathroom supplies in a separate container for easy access, like soap, hand towel, toilet paper, etc.
There must be cleaning supplies and chemicals you don't even identify. Besides that, you might not like the smell or efficacy of some supplies.
Bonus #2: Hire the Right Packers and Movers
With their high-quality packaging materials and experience packing different items, house shifting services in Mumbai handle the bathroom packing process efficiently for you. They ensure the safe transportation of your belongings and make your new bathroom fully functional on the first day itself.
Congratulations on a job well done using the tips mentioned above!
Let us know which tip you found the most useful. 
Appreciate our efforts by leaving a comment below. We will be happy to share more tips and make your move easy, quick, and hassle-free.